❝ Family don't end with blood ❞
›› Cap Harbor since :
23/07/2017
›› Célébrité :
Meghann Fahy
›› Schizophrénie :
Paul McMahon ∞ Helena Lewandowski ∞ Pio Esposito ∞ Martin Palmer ∞ Emmy Nelson-Riley ∞ Oscar Pierce ∞ Declan Pryce ∞ Dan Fumero

What have you done [Willow]
✻ ( Mer 6 Fév - 21:18 )






Ce soir était une soirée particulière, avec Asher on avait décidé de faire une petite expérience sur ma personne et je devais avouer que cela m'amuser beaucoup. Le but de cette expérience ? Savoir si l'alcool pouvait supprimer toute trace de maladresse chez moi. Je n'étais pas convaincue par la chose, ni par le côté scientifique, mais j'avais envie d'essayer. Je me disais que cela ne pouvait que nous faire rire et puis surtout j'avais Asher pour prendre soin de moi et s'assurer malgré tout que je ne viendrais pas à jongler avec des couteaux. Parce que maladresse ou pas, les couteaux n'étaient pas forcément de très bon outils de jeu. Sauf quand on était un tueur en série, mais heureusement pour moi je n'en étais pas une. « Okay, alors j'ai l'alcool, j'ai fait des tacos parce qu'il faut manger quand même et après on pourra faire du sexe ou avant, le programme est libre » Avec Asher parler de notre vie sexuelle était aussi simple que de parler de la pluie et du beau temps, tant qu'un plan impliqué qu'on finisse tout nu on était heureux. De toute façon j'étais heureuse avec lui alors partant de ce principe, tout le reste n'était que du bonheur. « Je vais juste sortir Yoko rapidement parce que sinon après elle va être chiante toute la soirée. » J'adorais ma chienne, mais par moment elle était aussi folle que moi et je savais que si je n'allais pas lui dégourdir les jambes, elle allait vouloir nous faire chier. J'embrassais Asher et quittait la maison les mains dans les poches. En ce moment j'avais l'impression d'être une caricature de pub pour le bonheur, je pourrais presque marcher en sautillant et sifflant, mais pour ma sécurité je ne sautillais pas et surtout je ne savais pas siffler. Après ce que j'estimais une promenade relativement correcte je rentrais pour voir la mine déconfite d'Asher. Qu'est ce qui avait bien pu se passer pendant mon absence. « Ton téléphone n'a pas arrêté de sonner et maintenant il s'illumine comme un sapin de noël » Je comprenais mieux sa tête maintenant et la mienne devait beaucoup lui ressembler. Quand ça s'agitait comme cela du côté de mon téléphone c'était forcément le boulot et malheureusement je ne pouvais pas ignorer les appels. « Je suis désolé, mais promis on remet cette expérience à très vite » Il était hors de question qu'on oublie de la faire. « J'essaye de faire au plus vite » J'espérais que c'était une affaire urgente parce que je me sentais vraiment biaisé. J'allais être en manque de la présence d'Asher si ça continuait comme ça. « Je t'aime, à tout à l'heure » Connaissant l'animal peut-être qu'il serait déjà en train de dormir quand je rentrerais, ou alors avec un paquet de chips en train de regarder la télé.

Avec beaucoup de regret je quittais la chaleur de notre foyer pour braver le froid et me rendre au boulot en insultant mentalement la personne qui osait me déranger de la sorte. Je n'étais pas de mauvaise humeur, mais il ne faut pas jouer avec moi très longtemps pour que je m'énerve et de toute évidence cela devait un peu ce soir sur mon visage quand je passais les portes du commissariat. « Je suis désolé inspecteur Miller, on a arrêté une personne et depuis tout à l'heure elle hurle à la mort comme quoi elle vous connaît et qu'on va le regretter si on ne l'a fait pas sortir tout de suite » Je le regardais avec étonnement, qui pouvait bien crier mon nom de la sorte. Cela n'avait aucun sens. Du moins je n'en voyais pas pour l'instant. « Vous avez le nom de la personne ? » En fonction de sa réponse peut-être que j'allais repartir aussi vite en le laissant se démerder. « Oui, c'est Willow Matthews » Bordel, je jurais entre mes dents, me promettant d'étrangler Willow à la seconde où je la verrais. « Merci, je vais m'en occuper. » Je soufflais un bon coup pour essayer de garder mon calme et je me dirigeais vers l'une des cellules. Plus je me rapprochais et plus j'entendais la voix de Willow. « Qu'est ce que t'as encore fait Willow pour finir ici ? » Avec cette adolescente, plus rien ne m'étonnait et je ne comptais plus le nombre de fois où j'avais fait sauter pas mal de choses pour elle, mais aujourd'hui non. J'avais pas spécialement envie surtout qu'elle avait gâché ma soirée avec Asher. « T'as vraiment cru que j'étais ta carte ''libérée de prison'' ? » Parce que si c'était ça, elle pouvait se mettre le doigt dans l'oeil jusqu'au coude.





lumos maxima
† we're not broken just bent.
❝ Family don't end with blood ❞
›› Cap Harbor since :
25/01/2019
›› Célébrité :
Maia Mitchell

Re: What have you done [Willow]
✻ ( Dim 10 Fév - 13:06 )
« Where the Hell are you ?? »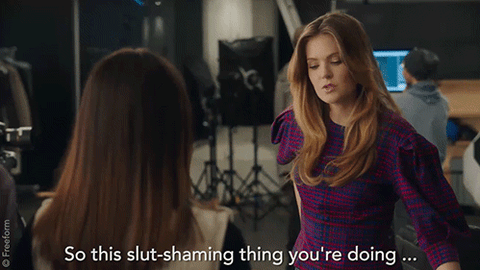 Fuck fuck fuck fuck et n puissance fuck, dans quel merdier elle s'était fourrée là exactement ? Pourtant au départ cela partait d'une bonne intention, elle avait voulut aider, elle devrait peut être essayé d'arrêter ça avant que cela ne finisse par tourner réellement au vinaigre aigre doux un jour. Tout avait commencé par une conversation de deux camarades de cours, l'une se plaignant à son amie que son ex copain ne lui avait pas rendu son téléviseur dernière génération et que c'était tout de même fou qu'elle n'arrive pas à trouver une loi qui puisse lui permettre de le récupérer légalement. Vu qu'elle n'avait plus la facture, elle ne pouvait pas en effet prouver que ce téléviseur lui appartenait réellement. Willow s'en était alors mêlé, disant que des fois mieux vaut la force et l'intervention personnelle que l'inaction, et voici donc les deux amies se tourner vers elle. S'en était suivit une conversation trop longue pour qu'elle soit reportée maintenant mais en gros Will s'était chargée de récupérer le dit téléviseur par une fenêtre pendant que les deux autres feraient diversion à la porte. Il y avait d'abord eu l'escalade jusqu'à l'échelle de secours qu'il avait fallut déplier sans bruits, puis ensuite monter les étages sans se faire prendre jusqu'à la dite fenêtre. Le soucis principal était que le monsieur avait changé la disposition de l'appartement et qu'il ne correspondait plus du tout à ce que sa camarade lui avait décrit. Cela n'avait pas arrêté Will, une fois la sonnette dans l'appartement qui retentissait elle se glissa par la fenêtre et tenta de repérer le dit téléviseur. Premier soucis, les câbles, ils étaient dans une gaine, au pire elle en rachèterait s'était dit la jeune femme. Elle avait alors commencé à décrocher tous les câbles de l'engin avant 'entendre un bruit derrière elle. Le temps qu'elle se retourne trop tard elle venait de se prendre un objet lourd sur la tête accompagné d'un cri féminin. Bon apparemment le monsieur avait retrouvé dulcinée et celle-ci venait de mettre un KO à la jeune femme. Quand Will avait retrouvé une partit de ses esprits, en plus d'un mal de crâne intense elle avait les mains menottées et se trouvait dans une pièce avec une lampe sinistre et un type patibulaire en uniforme face à elle. La suite et bien, Will a bien tenté de raconter son histoire, le soucis c'est que ces camarades avec le cri avaient détallées et que ses dires ne trouvaient plus de témoins. Willow, face au mur, avait usé de sa dernière carte et avec un aplomb qu'elle était bien loin d'avoir avait hurlé et menacée en utilisant le seul prénom qui lui venait à l'esprit à cet instant pour la sortir de ce pétrin. C'était certes un peu plus compliqué qu'un PV pour stationnement de vélo gênant mais tout de même, si Sarah pouvait quelque chose elle le ferait. Will n'avait ni l'envie ni la tête ce soir à se trouver à tester les cellules du commissariat. Puis il y aurait aussi Mila qui devait se ronger les sangs à ne pas savoir où elle était. Enfin peut être... La porte se rouvrit et cette fois un soupir intérieur parcourut l'échine de la jeune femme alors qu'elle continuait à s'époumoner pour se faire comprendre face à l'armoire à glace qui posait des questions stupides. Le soulagement fut de courte durée en voyant la tête de Sarah et son air de je n'ai pas envie d'aider du tout, mais Will ne se démonta pas. Parce qu'elle comptait bien porter plainte contre la personne qui l'avait attaquée par derrière, mais cela se serait après que Sarah l'est sortit d'ici. « Sarah ! Enfin ! Je n'ai rien fait de mal !  » Bon ça c'était le point de vue de Will, ce n'était peut être pas celui du locataire de l'appartement et de sa gourde qui avaient crus qu'ils se faisaient cambriolés. « C'est un malentendu, ce mec à gardé la télé d'une camarade de cours, on venait seulement la récupérer, et vu qu'il laissait pas de choix bah on a voulut récupérer en screud, seulement sa pouffiasse à tenter de me défoncer le crâne, si j'ai pas un trauma avec le coup qu'elle a mis c'est un miracle !  » Le regarde de la jeune femme était flamboyant de colère contenue à peine, si elle mettait la main sur cette pétasse blonde elle lui arrachait les cheveux, les yeux et le reste ! « C'est toi qui m'avait dit que tu pouvais m'aider, faudrait savoir !  » Là c'était un soupçon de mauvaise fois avec un mal de crâne carabiné et une forte envie de vomir qui pointait son nez qui noircissait le caractère de la brune. Mais ce n'était qu'une moitié de vérité, Sarah avait bien dit qu'elle pourrait l'aider de temps en temps sur des petits délits, là .. C'était peut être trop gros pour qu'elle puisse passer l'éponge de la brune....
Asaëlle
Willow Matthews
Just wanna do my best, now, and always.
codage par Laxy